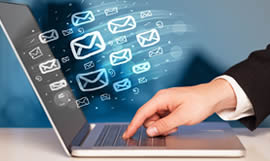 Bulk Email server hosting services
Email marketing server, SMTP server provider company, Mass mailing email server
Sending bulk or high volume email presents unique challenges for businesses, ISPs and email hosting companies. To accommodate bulk email sending, Instant Bulk SMTP provides several SMTP options including shared, semi­dedicated and dedicated hosting services.
Unlike typical email marketing services, our high volume SMTP hosting service lets you send from your own application server, you can easily integrate your application with our SMTP servers, our high volume services are highly scalable and competitively priced.
We understand how important role marketing play in business and by looking that we have designed our Instant Bulk SMTP service which help to start sending your compaign in less than 30 mins. You can rely on our robust cloud infrastructure. Quickly and securely send bulk emails with your very own Dedicated Email Server.