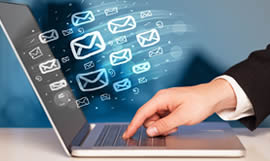 BULK EMAIL SERVICE PROVIDER
Reach your audience using our bulk email solutions with award winning bulk email software.
Bulk sending is widely used by email marketers as a method of constant communication. It allows you to spread information about your products or services to a large audience in a short period of time.
We provide a professional high-performance mass emailing software for your email marketing campaigns. It gives you the opportunity to create and send a large number of emails to an unlimited number of recipients.
Use our bulk email service to send stylish email newsletters, promote awesome products and strengthen important relationships.
A good mass email campaign doesn't need expensive web-based solutions: it can be handled effectively on your desktop or laptop, keeping your own email lists private and managing every aspect of the strategy on our mass email software. It's easier, safer, and cost effective.